Company Techprilad Eng. LLC
Techprilad Eng. LLC was established in 1994 and currently is one of the leading companies in Ukraine specializing in the supply, engineering support and after sales service high quality industrial valves produced by world-class manufacturers.
We operate both in industrial and municipal engineering markets.
Our offer comprises of various types of industrial valves to be applied in different branches of industry
In Ukraine we represent some of well known European manufactures: ARI-Armaturen GmbH, HORA (Holter Regelarmaturen GmbH), Mankenberg GmbH, A+R Armaturen GmbH, Flowrox Oy, Valvosider S.r.l., Valpres S.r.l., Ghibson Italia S.r.l. and some others.
Our company is responsible for brand promotion, sales, stockholding, aftersales service for full range of the products produced by up-mentioned manufacturers.
Techprilad also carries out design, assembly, some completed blocks for industrial and municipal engineering applications.
---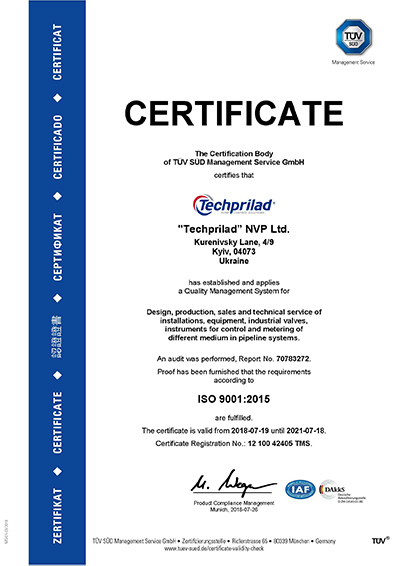 All products we offer have already been installed and proved their efficiency and credibility all over the world. They have long term successful operation experience in Ukraine as well.
Our team consists of trained mechanical's and electrical's providing engineering support at the design stage of the projects and carrying out comprehensive commissioning, after sales service.
The company has his own premises with 1400 sq meters covered with modern testing and warehouses equipment. Company Techprilad has obtained the Certificate of compliance to ISO 9001:2015 standards issued by TUV SUD Management Service GmbH (Germany).